Multics
Close ⊗
Loading
This is a not-so-good quality picture that was taken at the CISL farewell gathering in 1985. Her distinctive hair and glasses let one make out Melanie at the far right. I'm the one sitting down on the left. Most of these people (including myself) went on to work on the Opus project in Billerica, and some of us found ourselves together at the Open Software Foundation. I feel bad that I don't remember all of these great people, and my apologies to anyone I have mis-identified.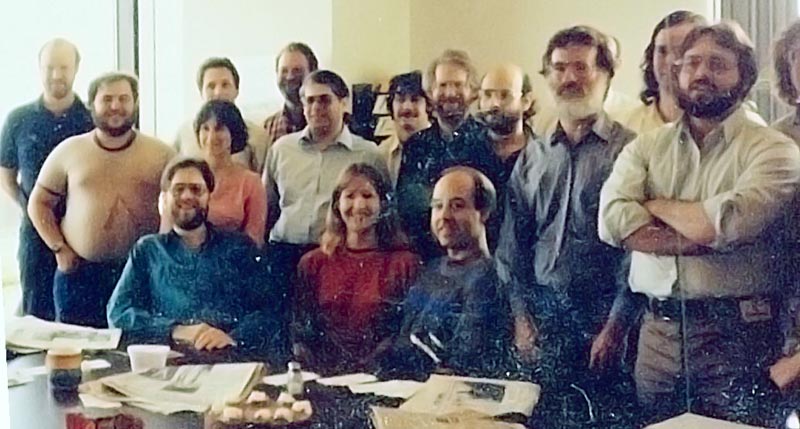 With the end of Multics development imminent, a bunch of us starting jumping ship (although I would end up returning to Honeywell for Opus development). This picture was taken in May 1985 at a going away party at our ninth floor Cambridge Center offices. The picture was taken by my (now ex) wife Madeleine, who was so well known there that she had her own pass. Also outside the picture would be my first daughter Genevieve, born a month earlier, who liked hanging out in Cambridge.
About a year later, the "CISL Wake" was held in May 1986, with a Boston harbor cruise and dinner at the Royal East Chinese restaurant in Cambridge. Photos of many attendees are online.
Also see the Multics Rug from CISL in the Memorabilia section.
March 13, 2010, incorporating corrections by John Gintell, Ed Sharpe, and Chris Jones.