Multics
Close ⊗
Loading
Location
Honeywell Cambridge Information Systems Laboratory, 575 Technology Square third floor, Cambridge, MA, USA.
There was a GE CISL office located in 545 Tech Square on the 7th floor in the early days of Multics development in the 1960s, before the 575 building was built, but that office had no Multics machine. The 575 Tech Square building was built about 1969 and GE moved its development group to half of the third floor, and continued there after the merger. CISL developers used the MIT 645 for development runs until about 1974, when CISL got its own 6180.
The CISL machine was moved to the Cambridge Center building in Kendall Square when CISL moved there in 09/83.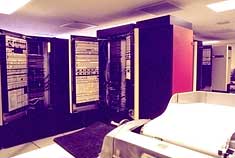 First Installed
1974 (?)
Configuration
One 6180 CPU,
256K words MOS memory, (core too)
no paging device,
lots of MSU0500 disk drives,
four tape drives,
printer,
card reader & punch.
An ARPANet connection via ABSI was added in 1979. [RFC 790, 820, 870]
Up to 3 FNPs, two for MCS and one for DNS.
At some time in the 70's, a second CPU (an 8/70M), more memory, and paging device were added at the Tech Square site.
Operations
The people who operated the CISL machine included Don Fidler, Angelo Grieco, and Ed Winslow.
Application areas
This system was used at CISL to test new versions of the system, especially hardcore modifications. It was available to system programmers who wished to do a development run on a signup basis.
Eventually, it was run as a "service system" at CISL during mid-day, running the experimental-system-de jour on a beta-test basis. This also gave systems programmers the opportunity to build and preload software for development runs.
Anecdotes
[JWG] One point about the CISL machine at both sites is that it was shut down and powered off every single night! I believe it is the only GCOS or Multics system that was ever run this way. The specs said that you could, but Field Engineering always complained, and I'm sure this contributed to some of the disk failures.
[JWG] One other thing that always blew my mind is that we had a 355 with maximum of everything that was 12 feet long! I believe we abandoned this when we moved to Cambridge Center.
[BSG] As configuration and setup of new Multics site, including the registering of projects and users is a non-trivial procedure to learn and follow, a "development hierarchy" with a small site all set up was loaded from a backup tape as part of the setup for a run. One of the endearing memories of this was the use of the IDs of a handful of prominent, senior Multicians of the era as the registered users in this environment. Junior programmers testing software at that time would say, "Gee, do I want to be Steve Webber or Noel Morris today?" (When CISL began to run its own machine as a service during the day and all CISLians had accounts and real files there, this practice ended).
[Richard Shetron] The CISL 6180 had 2 memory boxes in the late 70's. One core, one semiconductor. The CISL people said they had a 2 page program and could tell by the run time which page was in which type of memory.
[Loepere Keith Loepere] Story: CISL Farewell.
[Ranzenbach Ed Ranzenbach] Story: CISL Wake.
Also see Keith Loepere's Multics Rug from CISL in the Memorabilia section.
Final Shutdown
The equipment was moved to Honeywell Billerica when CISL closed, in 06/86.
[JSLove@MIT-MULTICS.ARPA.UUCP] Posted in mod.protocols.uucp on 5/23/86:
Postmaster Alert -- CISL-SERVICE-MULTICS.ARPA => MIT-MULTICS.ARPA
Yesterday, 22 May 1986, CISL-SERVICE-MULTICS.ARPA (10.3.0.31) went off the air. The Cambridge Information Systems Lab closed its doors today.
At some future time, probably in about 2 months, a new Multics will come on the ARPAnet at a different Honeywell location in Billerica, MA. The name and address are not definitely known at this time.
For the moment, all mail intended for recipients at CISL-SEREVICE-MULTICS.ARPA should be sent to MIT-MULTICS.ARPA (10.0.0.6) instead. This includes mail destined for other non-Internet sites which uses CISL-DEVELOPMENT-MULTICS.ARPA as a gateway. For example, Multics users in Phoenix, AZ, receive mail as User%PCO-MULTICS@CISL-DEVELOPMENT-MULTICS.ARPA.